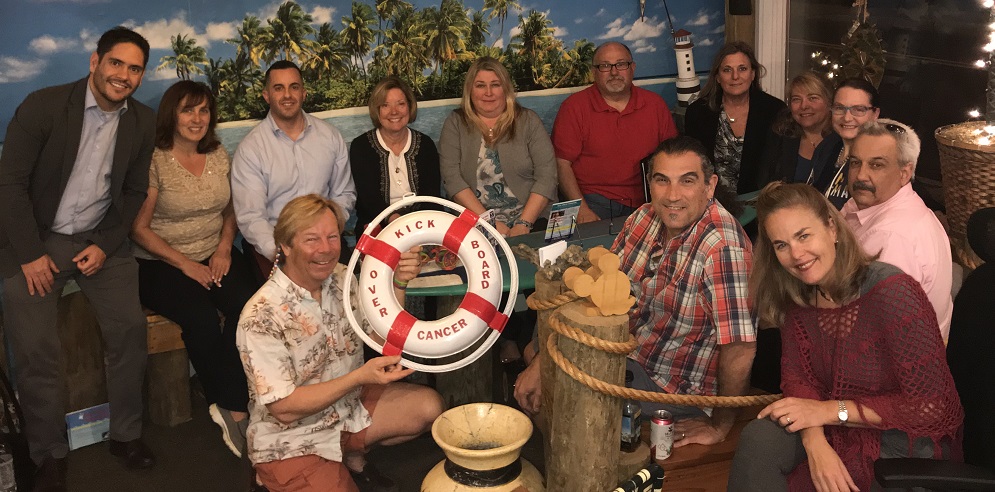 is the founder of Kick Cancer Overboard. He is the owner of Excel Travel in Long Branch, NJ, and has over 30 years of experience in individual and group travel. He is involved with many local organizations and a Paul Harris Fellow with the Greater Long Branch Rotary Club. Ted is a two time recipient of the Spinnaker Award from the Eastern Monmouth Chamber of Commerce, and a recipient of the Osprey Award from the Jersey Shore Chamber of Commerce. After the healthiest people he had ever known (DonnaLyn Giegerich and her husband Tom Zapcic) both got hit by cancer, he saw the same thing happen over and over again, to friends and family, Watching Shark Tank one night, they talked about how in life (and your career) first: you fake it, then: you make it, then: you master it, and then (if you are lucky): you matter - and make a difference. Ted decided it was time to take action and make a difference. He ran his idea by DonnaLyn .... and the rest is history!
DONNALYN GIEGERICH, MBA, CIC, RYT
is a professional speaker,insurance entrepreneur & creator of donnalyn.org, a global advocacy site to empower others. She is a rare sarcoma survivor & caregiver in a Courageous Cancer Couple journey elevating what's possible with "less fear, more fun". Her work has been awarded by National Association of Women Business Owners, Rothman Entrepreneurial Inst, TeamSurvivorTriState and many others. She is a two time Spinnaker winner and Honorary Rotarian for service above self. Her national and local media credits are vast and their story was recently featured in new book The Art of Bouncing Back by Z. Greenberg. She is also a happy 20 year participant in Excel Travel's "Make Us Happy – Go Away" club.
from Hillsborough N.J. Works for the United States Postal Service. For 31 years. Founder and Chairperson for the Linda Walker Memorial Golf Outing to Honor his Wife who lost the battle with cancer 5 years ago. I have been supporting KCO with volunteering for the last 5 years and was honored to be asked to join the board 1 year ago.
comes to Kick Cancer Overboard through personal experience. In 2010, her not-yet-four-year-old grandson, Logan Parker, was diagnosed with a rare form of Acute Lymphoblastic Leukemia. A friend recommended Logan and his family for a KCO cruise. To fund that cruise, Pattie, along with more than 70 other friends, family members and supporters staffed three fluid stations at the NJ Marathon to benefit KCO. Logan, his parents, and older brother enjoyed a five-day cruise to Bermuda in 2012. Since that time, Pattie has continued to lead and staff two fluid stations each year at the marathon to benefit KCO and pay forward the gift given to her family. Sadly, Logan passed away in March 2016, but he will be remembered always and honored each year at the "Love for Logan" fluid stations at Mile 13.2 and Mile 23.3 along the marathon route. Pattie, who also lost her mother and other relatives and friends to cancer, is a public relations, communication, and marketing professional who has worked in the acute healthcare and long term care sectors for over 35 years and a staunch advocate for childhood cancer awareness.
From Howell, NJ, Mike and his family were first introduced to KCO when their family was granted a wonderful cruise vacation by the organization. Mike & his wife Janet have a daughter Gianna and a son Jake. Jake was diagnosed with brain cancer in 2012 at 2 years old. Since 2012, Mike has been a strong advocate for raising awareness on the severity and epidemic of pediatric cancer. He has been a professional in the medical sales industry for over a decade. Mike hopes that his unique experience with pediatric cancer and team player attitude will help take KCO to new heights.
Karolyn Wray has been in real estate since 1990 handling residential sales, management, corporate relocation and business development. She is also very active with Monmouth Ocean Regional Realtors and is currently serving her second term on the Board of Directors. She has been chairing the By Laws Committee and serving on the Grievance Committee for several years. She was also appointed to MORR's Strategic Planning Committee where the new name MORR was reborn. Recently she "self retired" from real estate office management to go back in to full time sales at Resources Real Estate in their Monmouth Beach office.
Over the years Karolyn has served in many capacities on both the state and local level for her industry.
She believes in participating and giving back to the community, especially in areas of special needs. Post Super Storm Sandy she became a member of Sea Brighter's Embracing Action helping her community navigate through the difficult task of returning home as well as assisting the town with storm mitigation work. She had to personally demolish her own home and rebuild according to current flood guidelines. All the while she continued to give back. Currently she serves on Sea Bright's Unified Planning Board, Green Team Committee and Dune Planting Committee.
After several years of volunteering Karolyn was recently appointed to serve as an Executive Board member for Kick Cancer OverBoard, a local organization based in Long Branch that raises funds to send families going through cancer treatments on free cruises to Bermuda. Having lost several family members to cancer her enthusiasm has assisted in raising thousands of dollars which has helped send numerous families on these cruises where their biggest worries are daily activities, where to eat or what to do on Bermuda.
Karolyn is also in her second term on the Fort Hancock Advisory Committee, a committee that is determined to capture interest in restoring and reusing the beautiful buildings on Sandy Hook that once were occupied by the military. The organization has been gaining good traction and several properties have been renovated or currently have leases being negotiated.
Lisa was fortunate enough to run into DonnaLyn at a networking event and quickly hit it off with her. After speaking with DonnaLyn and hearing about KCO, she was amazed at how many families KCO was able to positively affect and reward. Having seen the impact of cancer on multiple people in her life, she wanted to help an organization that benefits local families and was honored when asked to be an advisory board member. Currently a partner at Withum, Smith+Brown's Red Bank office, she has numerous years of professional experience in providing accounting and tax services to clients in various industries.
I am a graduate of Rumson-Fair Haven Regional High School and Princeton University and currently reside in Oceanport. My 26 year career in branch banking has lead me to my current role as Market Manager with Two River Community Bank, an organization which takes pride in giving back to the community. I won the Bill Bradley Young Citizen Award in High School which was the beginning of my passion for volunteering and giving back. I have enjoyed volunteering for many organizations and am looking forward to actively participating in helping Kick Cancer Overboard succeed in raising funds to give back to those affected by cancer.
Amy Paradise is a singer (Dale & Amy, Goodbie Amy) and the co-owner of Twin Boys Enterprises, LLC located in Ocean County, NJ. She is also a District Manager and Independent Consultant with Arbonne, a Swiss botanically based, health and wellness company. Amy is also a thriving two-time breast cancer survivor. She and her family were the very first recipients to a Kick Cancer Overboard cruise. Amy and her family quickly became part of the KCO family. She and her husband Dale have provided musical entertainment at many KCO events and fundraisers. Their teen twin boys, Zakk & Xander recently added their musical talent into the mix as well. As a family, the Paradises also perform as a local band known as "Two by Two." Amy wears many "creative" hats. In addition to providing entertainment, she also created a fun nutrition program known as "Blending Fun with Amy". A product known as "Amy's Hooptacular Hula Hoops" for fun & fitness is also her own creation. Amy is a brand new KCO board member and says she "proudly locks arms" with this incredible, loving organization.
Dale Paradise is a board member for Kick Cancer Overboard. Dale is originally from Fair Lawn, NJ and currently resides in Bayville, NJ with his wife Amy and two talented twin sons Zakk & Xander. Dale is the co-owner of Twin Boys Enterprises, LLC. Dale has been a performing guitar player since the age of 16. His most successful band was Goodbie Amy with his wife fronting the band. Goodbie Amy has played throughout NJ for over 20 years. Dale and Amy currently perform regularly as an acoustic duet. He also performs with his family band, 2by2, with his wife and twin boys. Dale and Amy enjoy donating their music for different charitable events, KCO tops the list of charitable performances. Being recipients of the first cruise KCO has awarded, they are dedicated to providing KCO with acoustic music whenever possible. Dale also works in the wireless telecommunications industry. He has held many different positions in this industry including Director of Construction for BCI. Currently, Dale operates as a consultant to the wireless telecommunications industry. Dale looks forward to his new role as a board member of KCO. He truly believes KCO is a worthwhile cause and loves to see the joy this organization brings to families
Diego Alexander Velez is a Strategic Account Manager for Royal Caribbean International Cruise Line. He holds a Bachelors and MBA from Sacred Heart University, where he concentrated on International Business and Economic Development. His two passions have always been travel and helping others. He has been in the Travel Industry for over 12 years, and has also worked in Economic Development for close to 5 years. He knows Cancer all too well, as he has lost his Father, an Uncle and an Aunt to this disease.
STEVEN MARCHI, All Occasions Limousines
Steven Marchi offers a personal touch as owner operator of All Occasion Limousine llc. Steve's 25 years' experience. Working as s chauffer, reservationist, dispatcher and operations manager. Steve's mission was to bring this experience and his personal touch to All Occasion Limousine llc where the customer is more than a name. Part of our formula is giving back to the community. Steve and All Occasion Limousine help support The Raine Foundation, Hazlet Township PBA, Red Cross, PTO's, PTA's, AUSA, Habitat for Humanity and Kick Cancer Overboard to name a few. Steve also belongs to business networking associations and chamber of commerce. Resident of Hazlet for 14 years, started his business from his home Feb 2013 with 3 vehicles, now 5 years old, has moved the day to day operations to an office also located in Hazlet and has 7 vehicles in his fleet. Where can we take you?
BRUCE GALLIPANI, Rockit! Live Foundation