Dear Supporters of Kick Cancer Overboard (AND past and future cruisers),
Wow, what a busy winter/spring for all of us at KCO.
KICK CANCER OVERBOARD CRUISE
As you can tell, our KCO cruisers had an awesome time on their cruise on Royal Caribbean's Anthem of the Seas to Bermuda.
We couldn't do this without you, so thank you so much for your support.
Thank you so much Gina Sos and Freddy Ewan from Bad Ass Networking for making it all possible. Thanks to your generosity and the assistance of Alexis Keller and Tito's Vodka, we were able to surprise two families with a free cruise.
Evelyn and her family will be going on our next KCO cruise.
Thank you all for making it happen. They most certainly deserve a break!
What a great family, and we are so thrilled that we were able to offer them a great getaway – thanks to BadAss Networking, and also our sister charities Bob Heugle's Frances Foundation and Eddie Karaban's Rainbow Foundation.
YOU are all awesome, and so generous!!!
EIPA LUNCHEON 
Kick Cancer Overboard received a portion of the proceeds of the Eatontown Industrial Park Association Luncheon in April.
Thank you Tara Demyanovich for your awesome help with the raffle table, and Frank Farrell from Custom Video Productions, for making it possible for all of us to watch a video of one of our all-time favorite KCO cruise recipients: Cookie West.
Just watch this video, and you understand what I mean – what an inspiration.
Thank you Anna Mayer for organizing it all, and Frank Preston of Advantage Career Institute for writing a very generous check right on the spot – after watching this video.
Thank you so much for helping us make a difference.
RUNAPALOOZA 
We had 67 volunteers helping us out at Runapalooza.
37 were from Allenwood Boy Scout Troop 82, raising money for one of their own who has been affected by cancer. Thank you to Melissa and Victor Coppola and all the many volunteers!
Way to go, Boy Scouts!!!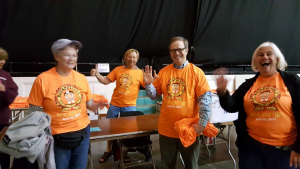 NEW JERSEY MARATHON 
We had 254 volunteers helping out Kick Cancer Overboard to raise money for future cruise families
Very special THANK YOUs go to fluid station captains Michela Zacharczyk, Cheryl Peterson and Pattie Tucker (Logan Parker's Grandma) for making it all possible.
Also a huge thank you to Long Branch Rotarian's Luciana Silva and Jeremy Skillings who recruited well over 30 volunteers to help us out on a Sunday morning.
We are still waiting for the final check, but it should be enough to send two more families to sea for free. THANK YOU ALL!
BON VOYAGE PARTY 
We enjoyed our annual Bon Voyage Party DonnaLyn Giegerich and Tom Zapcic's beautiful home, bidding farewell to our many cruisers.
Thank you to Gary Philips and Tom Minson for the awesome entertainment.
BTW, Gary Philips played nonstop for over 4 hours at Pattie Tucker's NJM fluid station.
Awesome music, what a talent – www.garyphilips.net
Talking about DonnaLyn and Tom…
Read about their lives and many passion projects in this most recent article in the Community Magazine:
http://communitymagazinenj.com/2017/05/31/passion-projects-red-bank-couple-enriches-the-lives-of-others/
CHIPOTLE 
We had a fun night at Chipotles in Red Bank.
Thank you all for showing up and supporting our cause.
ANYTIME DANCE STUDIOS
Thank you Vanessa, Chris and Caitlin for the awesome time we had at your Long Branch open house, and for your very generous donation!
Awesome dance studio, Awesome instructors – check them out: http://www.anytimedancelb.com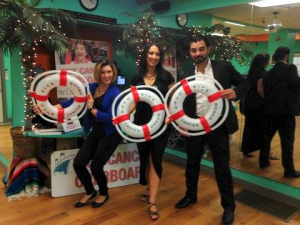 JIMMY JOHNS 
And then, at Jimmy John's in Red Bank it was time to give away a cruise and surprise McKenzie and her family:
Thank you Matt and Alex for your support and also David Banderas for auctioning off your beautiful painting.
BOWL-A-THON with KELLER WILLIAMS 
And thanks to long-time supporters Bill Bintliff and Ann WIllets for suggesting KCO to be one of the two recipients of the proceeds of Keller Williams' Bowl-A-Thon. We had a blast! And more importantly, The KW employees raised a lot of money and were able to surprise one of their own with a free cruise!
FUTURE EVENTS 
Please set aside the following dates for more fun and to help us send more people to sea for free.
6/22 BBQ
6/27 RYLA (Rotary Youth Leadership Awards) at Monmouth University
9/10 Linda Walker Memorial Golf Outing
12/17 Rockit! / KCO Holiday Dinner and Concert
AT ALL OF THESE EVENTS KCO WILL SURPRISE SOMEBODY IN THE AUDIENCE WITH A FREE CRUISE – THANKS TO YOUR SUPPORT. 
IF you would like to learn more about KCO, please be sure to visit our website at www.kickcanceroverboard.org, and LIKE us on Facebook.
Ways to support Kick Cancer Overboard:
* Donation on Website (or just send us a check).
* Let us know of any grant programs you might be aware of
* Possible matching grant programs by your employers
* Speaking opportunities
* PR connections with any media outlets
open to all of your ideas!
THANK YOU ALL for helping us KICK CANCER OVERBOARD 
Please also support our sister charities and organizations (we are all in this together)
and our friends at Tommy's Tavern and Tap (www.tommystavernandtap.com)