We have had a busy Spring/Summer and the next few weeks will be very exciting ….
It's hard to believe, but just a few weeks ago we were able to award yet another cruise and we are now up to 281 cruises that we have been able to give away, all to local families, who have been affected by cancer and truly deserve a break.
Of course, we couldn't have done that without the support of a lot of great people.
So, on behalf of all the happy cruisers, we would like to say …
---
THANK YOU to all the RUNAPALOOZA VOLUNTEERS
and especially Michelle Fabio for coordinating it all.  We had over 60 volunteers helping out at different fluid stations and were able to raise $4000.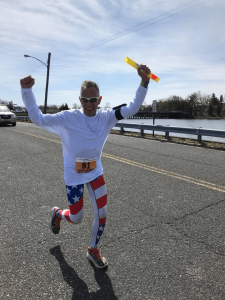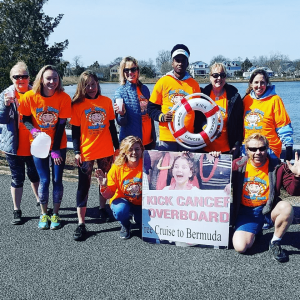 ---
THANK YOU to the NEW JERSEY MARATHON VOLUNTEERS
We had almost 300 volunteers helping us out as early as 5am on a beautiful Sunday morning and raised $6500.
FYI, as a not-for-profit organization, we get paid for the time our supporters volunteer at Runaplooza and the NJ Marathon, and we always have a great time doing it!
A special thank you goes to Amy and Dale Paradise for their ongoing support with their great talents.
Wonder what the runners thought of them singing "Cheeseburgers in Paradise"?
---
THANK YOU to DONNA LYN GIEGERICH and TOM ZAPCIC
for hosting our Annual Bon Voyage Party in their beautiful backyard.
What a great way to bid farewell to 51 KCO cruise recipients!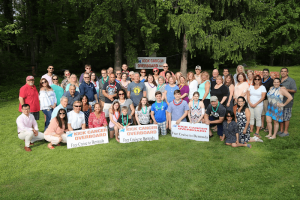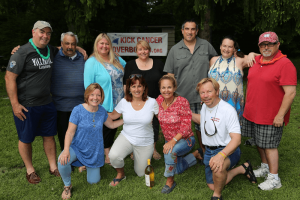 Photos courtesy of Tom Zapcic Photography
---
THANK YOU to TOBY STARK and the EATONTOWN LIONS CLUB
for sharing the proceeds of their golf outing with Kick Cancer Overboard.
The smile on Gwennie's face speaks for itself! Ship Ahoy!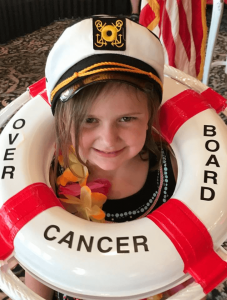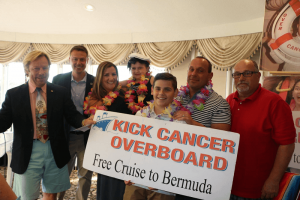 ---
THANK YOU to CABARET FOR LIFE
for coming through for KCO year after year.
Thanks to their support, we were able to surprise Gus and his family with a free cruise after a great concert/dinner at McLoone's Supper Club in Asbury Park.
For more information on Cabaret for Life: www.cabaretforlife.org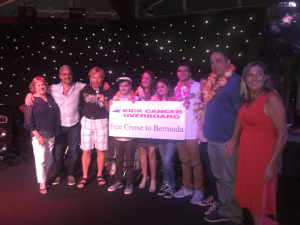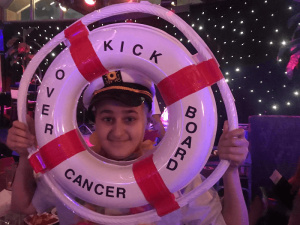 ---
NEXT BIG EVENTS
BEACON OF EXCELLENCE 7/19
Kick Cancer Overboard (and many of our supporters!) will receive the Beacon of Excellence for a Non-Profit Organization in Monmouth County on 7/19.
It's not too late to sign up and help us surprise yet another worthy family with a free cruise.  CLICK HERE
EIPA NETWORKING EVENT 7/25
The Eatontown Industrial Park Association will host a networking event at Eventide in Sea Bright on 7/19, 530pm-730pm.
Thank you Anna Mayer, for your  awesome support.
CLICK HERE for more information.
ANCHOR JAM SUNSET CRUISE 8/8
from Atlantic Highlands Sunset cruise with live music by Amy and Dale Paradise, our very own "KCO Houseband".
CLICK HERE to join us for a great time.
ROCKIT LIVE FOUNDATION ANNUAL GALA 8/9
at the Two River Theater in Red Bank.
CLICK HERE
A great concert and an awesome organization supporting many great causes (including KCO!).
And of course:
ANNUAL LINDA WALKER MEMORIAL GOLF OUTING to benefit KICK CANCER OVERBOARD on 9/9
Golfers of all levels are welcome to have fun with us and help us surprise an unsuspecting family with a free cruise to Bermuda.
CLICK HERE
Join DonnaLyn Giegerich for
YOGA ON THE LAKE / Saturdays at 830am through Labor Day
DRIFTYOGA on the beach at Driftwood Cabana Club at 11am on Sundays
https://www.facebook.com/YogaOnTheLakeSummerSeries/