Join us for our upcoming events!
Dear Kick Cancer Overboard Supporters,
What a Spring and Summer!
We have been very busy raising money, and of course surprising many more people affected by cancer with free cruises to Bermuda.In June we completed our 10th cruise, and the following photos speak for themselves:
To date, we have given away over 350 free cruises to Bermuda.  All to local families, who truly deserve a break.
We could not have done that without the support of a lot of awesome people and their tireless efforts.
So, with that in mind, we would like to say ….
---
THANK YOU TO THE MONMOUTH REGIONAL CHAMBER OF COMMERCE YOUNG PROFESSIONALS GROUP 
Every year, these young professionals host an awesome karaoke night at the Stone Pony.This year's recipient of the proceeds was KCO, and thanks to everybody's support, we were able to surprise a local family with a free cruise.

---
THANK YOU TO THE RUNAPALOOZA VOLUNTEERS
and especially Michelle Fabio for coordinating it all, and DonnaLyn Giegerich and Jen Vieth for rallying their troops. Thanks to them we had about 100 volunteers helping out at different fluid stations. We get paid for our volunteers and were able to send yet another family to sea for free.
---
THANK YOU TO THE NEW JERSEY MARATHON VOLUNTEERS 
We had almost 300 volunteers helping us out as early as 5am.
Thank you Gary Philips, Vinyl Traction  and Mario DaCunha for the awesome entertainment early on a Sunday morning.
Every year, Zynergy Cares is in charge of one of the fluid stations and they never disappoint! Thank you.
The Long Branch Rotary Club  was in charge of another station and a very special thank you to Logan Parker's Grandma Pattie Tucker for organizing two fluid stations every year and recruiting close to 100 volunteers for KCO.
The NJ Marathon pays for the volunteers. Thanks to our vast number of volunteers, we were able to surprise two families with cruises to Bermuda.
---
THANK YOU TO DONNALYN GIEGERICH AND TOM ZAPCIC 
An awesome time was had by all when DonnaLyn Giegerich and Tom Zapcic invited all the past and future cruisers and supporters to their beautiful park-like backyard.
And a very big thank you also to Amy and Dale Paradise. Amy (a 2-time breast cancer survivor, her husband Dale and their twin boys were our very first free cruise recipients, and now they are our own KCO house band! And they are available for any of your garden/pool/rooftop parties at goodbieamy@aol.com.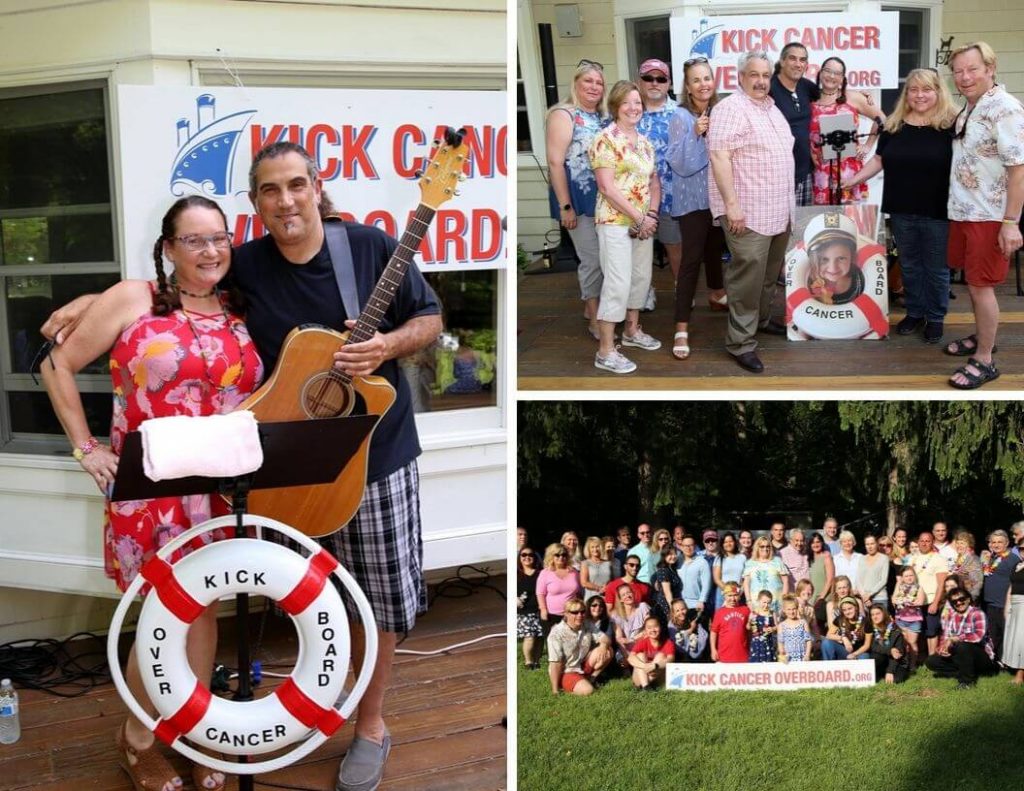 ---
THANK YOU TO STEVE WALKER and EVERYBODY WHO PARTICIPATED in the LINDA WALKER MEMORIAL GOLF OUTING 
The new club house is beautiful, and this golf outing is getting better and bigger every year, Russell Norkevich provided the fantastic entertainment, and thanks to Steve Walker and all the many golfers (some better than others), and all the many supporters (all of them great!) we were able to surprise two families with free cruises)!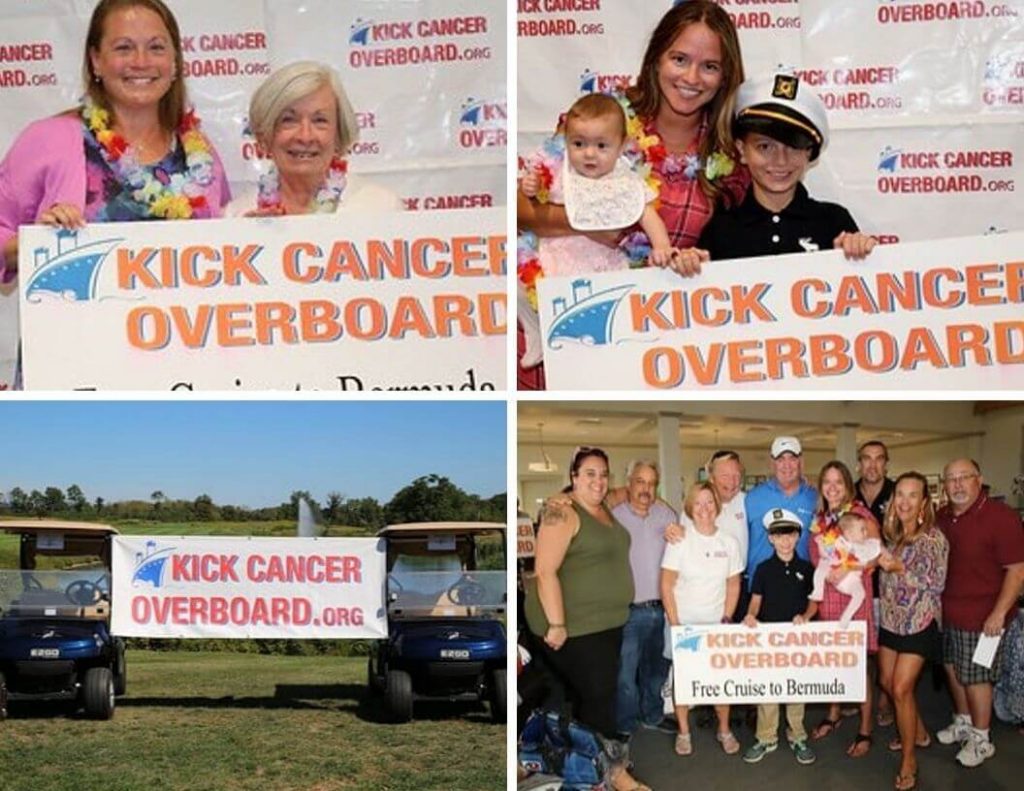 ---
THANK YOU TO ESTER JORDAN 
Ester's 6-year-old granddaughter Lucia received a free cruise from us last winter (thank you EIPA, Eatontown Industrial Park Association). Ester than paid her own way to sail to Bermuda with her family, and was so impressed, she decided to make nautically themed bracelets and offer them for $10 donations at various locations to raise money for future cruisers.
In just a few months, Ester's initiative raised well over $12,000!  Stay tuned for more information and for more cruise surprises.
Ester's bracelets are available at Style In Action on Rt.37 in Manchester, Mane Street Hair Designers on Rt.36 in Port Monmouth, Rub A Dub Dog Groomer, Rte 37 in Toms River and Standing Ovation Dance Studio on Brick Blvd. in Brick.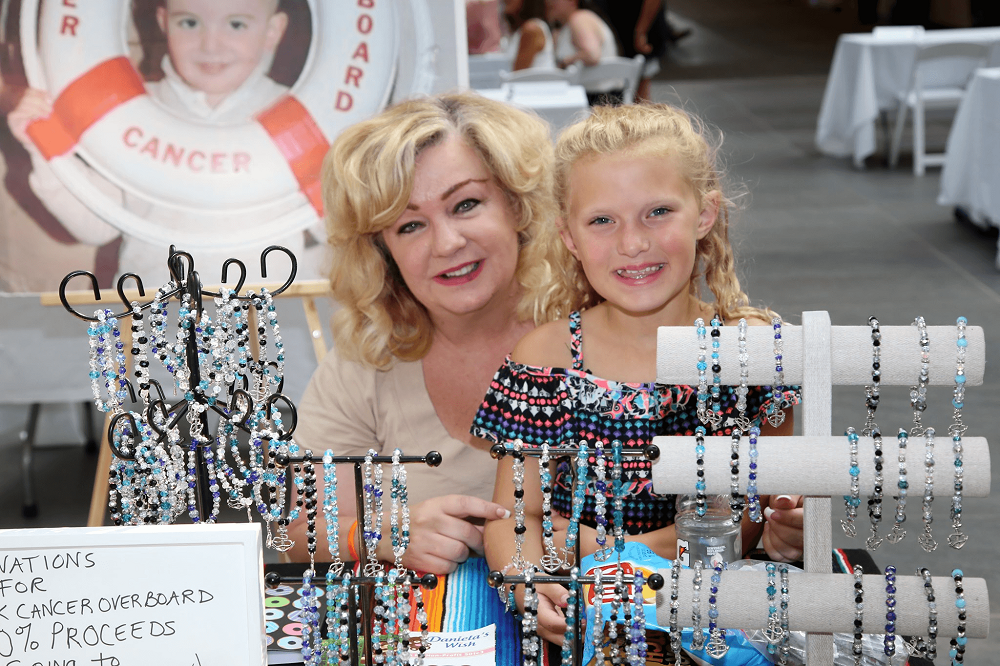 ---
From our Kick Cancer Overboard board to you and your family:
THANK YOU! 

---
Join us for our upcoming events!
12/29 Rockit! Academy Fundraise and Cruise Giveaway 
4/4/2020 Runapalooza (need volunteers)
4/26/2020 NJ Marathon (need volunteers)
10/3/2020 KCO Cruise with NJ 101.5's Eric Scott