What a great Fall!
We are getting very close to our 300th cruise giveaway (stay tuned for further details), and have a lot to be thankful for….
THANK YOU to the LINDA WALKER MEMORIAL GOLF OUTING 
Thank you to all who came out and made this our best year ever.
None of us present will ever forget the happy tears, when we surprised Leanna and Connor S. with a free cruise.
Unfortunately, 5 year old cancer thriver Bodyn had a fever and was not able to make it to the event.
But … thanks to everybody who contributed …. his Mom was able to get back to his bedside and surprise him, his other brother and Dad, with some great news (for a change)!
Chairman and KCO board member Steve Walker did a fantastic job and already scheduled the golf outing for next year, 9/15. And he plans to surprise not one, but two families with a free cruise to Bermuda.
THANK YOU to AMICI (Italian American Benevolent Society) and NICK MESSERE
for making it all possible.
We enjoyed working together with them at their 4th Annual Poker/Casino Night and surprise Maria M and her family with a free cruise.
THANK YOU to DANCE FOR KINDNESS and TERESE ROELKE and SHERILYN PRZELOMSKI
The 7th annual world-wide "Dance for Kindness" was held in Red Bank (closed down Broad Street!) by Life Vest Inside, a non-profit organization on a mission to empower and unite the world with Kindness.
11 year old Trevor "TJ" K was able to join us in Red Bank between Chemo treatments, so we we were able to surprise him and his family with a free cruise to Bermuda in Spring.
From our Kick Cancer Overboard Family to yours: 
Thank you all for your continued support and…
HAPPY THANKSGIVING
and a VERY JOYOUS HOLIDAY SEASON
TO YOU AND YOUR LOVED ONES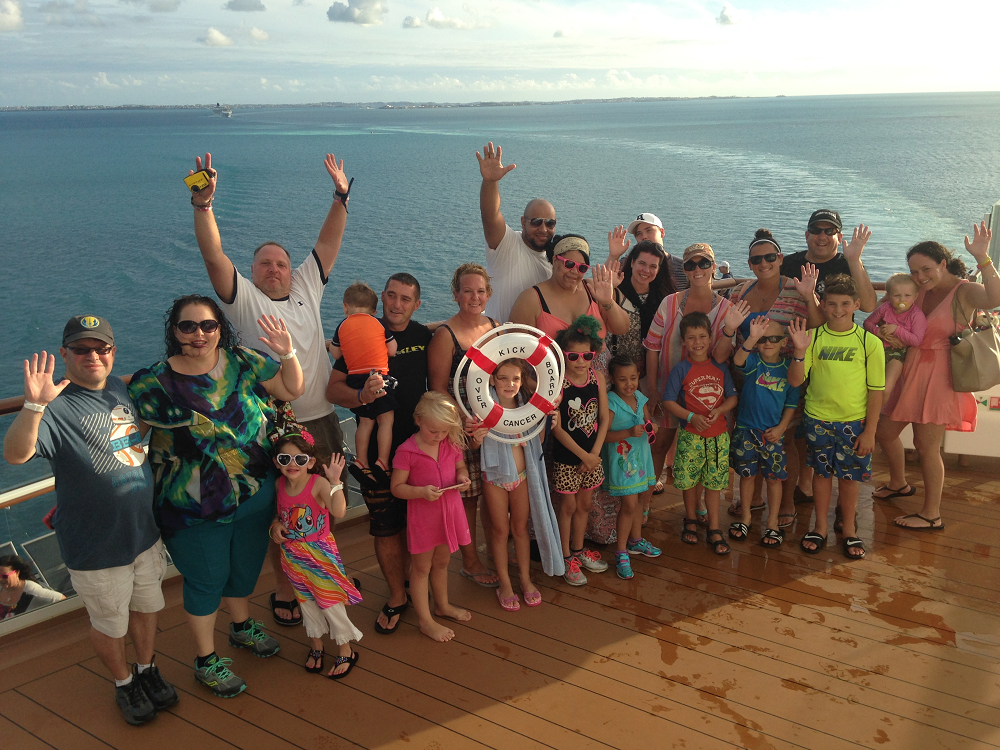 NEXT BIG EVENTS
KICK CANCER OVERBOARD and ROCKIT! CONCERT and FUNDRAISER!
Hope you can join us on 12/30 to celebrate a great year with us as we team up again with the Count Basie Theatre's Rockit Academy for a great dinner, concert, and of course, help Santa surprise THREE families with free cruises!
You can get your tickets

HERE
And please help us share the event on Facebook HERE.
Please also note the following KCO events on your calendars
2/13

Eatontown Industrial Park Association (EIPA) luncheon and free cruise giveaway surprise
4/6

Runapalooza (looking for volunteers between Point Pleasant and Asbury Park)
4/26-28

NJ Marathon (looking for volunteers between Oceanport and Asbury Park/Pier Village)
5/19

Bon Voyage Party
9/15

Golf Outing (9/22 rain date)
And of course, our KCO CRUISE 6/1-6/6/2019 
EVERYBODY IS WELCOME TO JOIN US, and HELP US CELEBRATE LIFE ON OUR WAY TO BEAUTIFUL BERMUDA. 
For about $1000 per person, it's an awesome cruise, family reunion, or stocking stuffer!